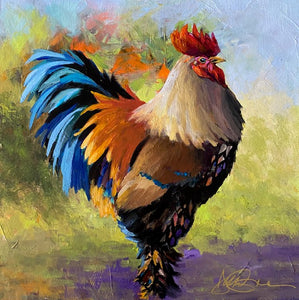 Costner 20" x 20" x 2"
Regular price
$895.00
$0.00
He is a proud guy in the farm yard.  So colorful as his feathers glisten in the sun.  Layers of paint applied abstractly and then detail as small as the glimmer in his eye.  He runs the 'show' and anyone would be proud to have him on your side.
20" x 20" x 2"

Acrylic on Wood Cradle

Signed on Front
Free shipping within the U.S.