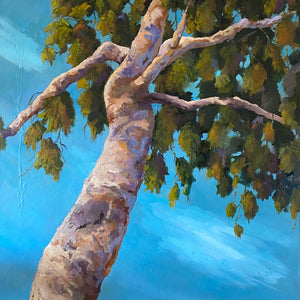 Holding Wisdom, 36" x 36" x 2"
Regular price
$2,300.00
$0.00
A colorful 40 foot Sycamore tree, just outside my window, has allured me for years.  The  camoflage effect on its trunk or all the colors of the leaves.  Those are the small things that get my attention.  But really it is the tree itself, all the way down to the roots... into the earth, that vibrate and recreate the pulse of the universe. Trees can tell us the time of day or the season or distress and pride. This how I honor nature. 
36" x 36" x 2"
Oil on Canvas
Signed on front and back
Free shipping within the U.S.