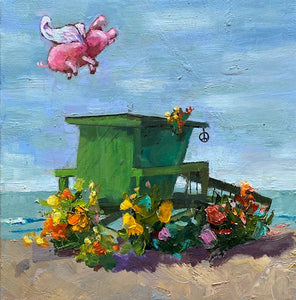 Peace 12" x 12" x 2"
Regular price
$650.00
$0.00
Brought to you by the notion that 'anything is possible'.                                                       A positive take on 'when pigs fly'.                                                                                         I'm opting for PEACE.  A sunny day at the beach, no matter where in the world you are.  Flowers in the sand and in your hair.  Awww, sounds like a 'love-in'.  OK.
           *  Original Art, Oil on Canvas
           *  12" x 12"  
           *  Signed on the side and on the back
           *  Free shipping anywhere within the United States